[Paradigm Shift 4zzz fm 102.1 fridays at noon 30 Oct 2015]
Ian and Carl play speeches from the death-in-custody rally last Saturday.
Speeches by Sam Watson, Fred Coolwell & Lionel Fogarty about black deaths in custody/police murder. Lionel Fogarty talks about terrorism against his people.
In the last 15 minutes of the show Carl talks about the Marxism 2016 Conference in Melbourne on the Easter Weeken 24 – 27 March. Guest speakers include Farah Kobaissy (Lebanon), Panos Petrou (Greece), Mandla Nkos (South Africa), & Ali Abunimah (Palestine).
Playlist
Black Rage – Lauryn Hill
Sukamani – Aewon Wolf and Mashayabhuqe KaMamba
Fists like this – MC Tricks and Black Shield
__oOo__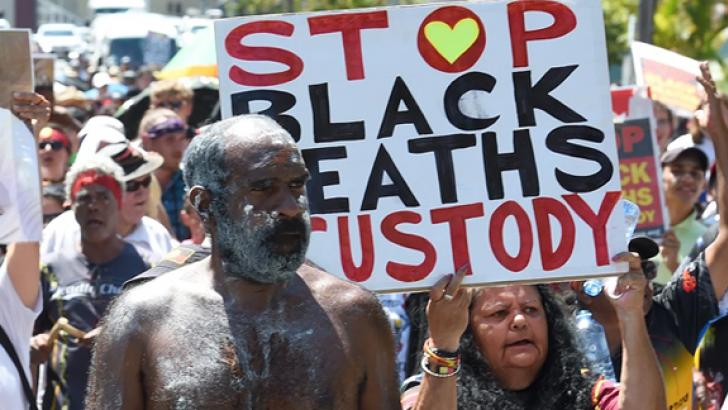 Aboriginal protesters and their supporters marched on Queensland Police headquarters calling for justice for Shaun Coolwell, on Saturday 24 October. He is the latest fatality in an ongoing epidemic of Aboriginal deaths in custody.
On 2 October, Shaun was at home in Logan, south of Brisbane, observing the fourth anniversary of his brother Bradley Coolwell's death in police custody. After a distressed Shaun hurt himself and was bleeding, the family called an ambulance. However, paramedics called the police. Witnesses reported seeing 10 to 12 police cars arrive.
"Shaun was smashed down onto the floor and they used their knees and shoulders to hold him and handcuffed his hands behind his back", family spokesperson Sam Watson told the Brisbane Times. Instead of receiving immediate medical assistance, Shaun was assaulted by police. By the time he arrived at Logan Hospital was declared deceased.
At the demonstration, community leader Fred Coolwell addressed the massive contingent of police: "I'm getting sick and tired of coming here and putting my point across, to how disgusted I am with the Queensland Police Service. They can never do no wrong, yet they can run into a blackfulla's home, kick the door down and do whatever they want".
Another speaker, Tony Robertson, remarked, "I look around now and I don't see any of my whitefulla friends in the Recognise campaign standing here in solidarity. That worries me". [Carl Jackson from Red Flag]